Every woman in this world has seen her fair share of chick flicks when she was down and needed love advice. Yes, chick flicks are similar to fairy tales because people find each other at the end and live happily ever after, but they give every girl hope that she can find Mr. Right. Even though they sound like fiction, chick flicks can teach us some valuable lessons about friends, relationships and finding true love.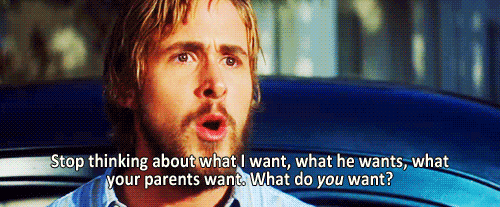 Follow Your Heart, Not parents' Approval
One of the classic chick flicks, "The Notebook", may be stereotypical forbidden love between a rich girl and a country boy, but it can teach us how careful we have to be when choosing life partners. If you fall in love in somebody that may not be as rich as you are, or your parents just do not approve of him because of his social status, that doesn't mean you should disregard your desires. "The Notebook" teaches us to always follow our hearts, pursue our dreams, and never to marry or even date someone just because he looks good on paper. Finding true love and a person you can share your life with is more valuable than all the money in the world.
"The One" May Not Be "The Perfect One"
Probably the most valuable love lessons you can get are the ones from the famous Carrie Bradshaw of "Sex and the City". Not only did she go through a lot of love problems, but she eventually manages to catch Mr. Big and seal the deal. However, if you watched the series and movies carefully, you will notice that "the one" is not necessarily "the perfect one". Just look at the Big and Carrie and their love history, and you will notice that they are compatible for each other, but neither one of them is perfect. You need to remember that when looking for your Mr. Big, be realistic, because nothing's perfect in life.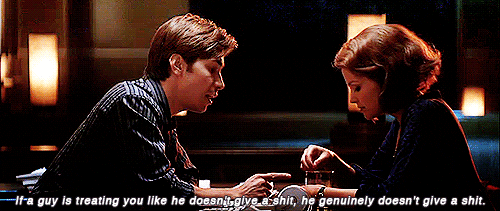 Open Your Eyes And Think Before Calling Him
Just like Gigi in "Just Not That Into You", women sometimes just cannot see if men are interested in them or not. This may happen because of the guys' good acting, but more often it is because we can get caught up in the moment and daydream a lot. This fun, but educating movie openly shows us that stalking and calling a guy 24/7 is not a good idea; especially if he is not returning any calls. If you see him ignoring and avoiding you, stop overanalyzing things and making up excuses for him. He is simply not that into you, because if he likes someone, he makes the call first.
Don't Get Into Relationships That Have No Potential
Hilarious romantic comedy "How to Lose a Guy in 10 Days" teaches us a lot about some important dos and don'ts in dating. Sometimes you may find yourself with a guy with whom you see no potential future, and if you need to get rid of him, then seek advice from this movie. You can go to psychotically extreme lengths like Andie, and get rid of a guy in less than 10 days. Start by naming his you know what weird, belittling names, and extend that to some future living with dozen children. There is no better way of scaring a guy off than by threatening with marriage.
The Strings Will Attach
Some will say that male female friendships are not possible since you are eventually going to end up together. However, if there is absolutely no chemistry between the two of you and you cringe at the thought of hooking up with each other, then you are safe. But if you are more like Justin and Mila in "Friends with Benefits", than you should probably know that this deal cannot work out without any hard feelings. There are strings attached when becoming that close with someone, and if you do not plan on committing to that relationship, do not break the heart of your friend with a one night stand.
Distance Shouldn't Be A Deal Breaker
Maintaining a long distance relationship can be hard, hurtful and requires a lot of patience and trust, but it is possible. This is just the thing that Erin and Garrett manage to prove in "Going the Distance", even though they were on the opposite sides of the USA. They show us that you have to work hard, never give up on a mutual goal, learn how to compromise, and everything will work its way towards a happy end. You both have to make sacrifices and that is the only way to have a happy relationship."
However, when it comes to marriage things are a bit different. While long distance relationships usually survive on the idea that "one day we'll be together", separating the married couple can be devastating.
Chick flicks may not be as realistic as we expect them to be, they can't be, they're made in Hollywood, the land of dreams. It's kind of ironic then, that in California Divorce Online seems to be a service that is used more and more frequently. However, they sure can teach you something. Considering they're These movies are a good "pick me up" when you are feeling sad and alone, but they can make you realize what are you doing wrong and help you work on your relationship skills.