Regular fitness routines and all the healthy eating you do at home can become quite boring and taking a fitness vacation can help you out. You should take one and follow through with your New Year's resolutions the next time you leave town. What you need is a great plan and some attitude. Below are tips on how to lose weight on vacation.
1. Be Active
When traveling, you should set time for sleep, a good book, doing a crossword puzzle, reading gossip without necessarily forgetting to be active. You can still engage in arm stretches, walk about the plane cabin, and do simple fitness routines while seated as you fly. If you travel by road, pit stops provide an opportunity for you to work out for a short while via jogs, matching on the spot among other things. You should not care about who sees you since you will not see them again. Eat a bit less than usual (only while getting to your destination) since you will not be exerting lots of energy anyway.
2. Get some Sleep
Weight and sleep are correlated. Oversleeping and not having enough sleep lead to weight gain because you will eat more. Stick very close to your home eating plan to avoid drastically throwing off your whole schedule.
3. Schedule some Fitness Time
Regardless of the fact that you are on a vacation, you can incorporate some activities in your itinerary and these may include golfing, biking, mountain climbing, surfing, hiking, skiing, and kayaking among others. Long walks are a great alternative if you don't like being too active and you can incorporate them when shopping, going to the zoo, sightseeing, playing with your kids and so on. Avoid renting a car unless you have to and watch the pounds drop!
4. Carry Portable Exercise Gear and Equipment
You can go on a vacation with your tennis shoes, workout clothes, and simple equipment like yoga mats, jump rope, inflatable balance balls and weights. This way you will hasten your weight loss progress and avoid disappointments after your vacation is over.
5. Avoid Unhealthy Food
During your vacation, you should shop for healthy low-calorie foods like fruits, energy bars, and vegetables from the nearest grocery to help you keep your energy up. Avoiding unhealthy food lessens the cravings for them.
6. Bring Along a Dog
Going on pet-friendly vacations will ensure that you can take advantage of the walks and playing sessions they need to lose weight. For more ideas on these vacations, check out top 10 dog friendly vacation spots.
7. Wake up Earlier
Being on vacation is not like being in school so you can sleep in. However, ensure you wake up before noon by setting an alarm in order to enjoy the sights your destination has to offer. You need to take a healthy breakfast though, to avoid overeating later in the day then go on and enjoy your stay.
8. Avoid Dining Out
Dining in is a lot easier if you have a vacation rental as your accommodation. With access to the kitchen utilities, you can share duties with your family or even the group members each night. This saves money and keeps you from overeating.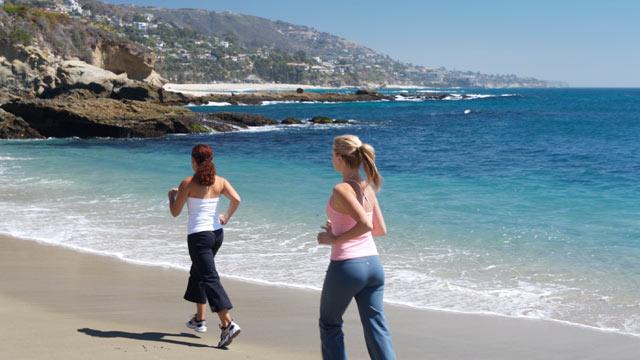 9. Eat Out Cautiously
Vacations entail eating out at times so pick out your restaurant and food on the menu with care. Inquire about healthier choices or use online reviews as your guide and control your portions by eating appetizers as entrée then order a side salad. Avoid alcohol and deserts as much as you can and indulge only on rare occasions.
10. Consider a Weight-loss Retreat
If you want a more specialized program to help you keep fit or lose weight, then a specialized weight-loss retreat may be the better option for you. Retreats offer a more customized plan to help educate you on nutrition and enhance your fitness levels thus leading to rapid but healthy weight loss. Retreats have the advantage of enabling you access to instructors as well team members all on a similar quest to achieve their fitness goals. Workshops and counseling sessions will also help you discover your food triggers and help keep you fit long after you leave the retreat.
11. Go for natural Supplements
Consider using weight loss supplements that are natural and with mild or no side effects, for example garcinia cambogia, it's a tropical fruit also known as Malabar tamarind, you can see garcinia cambogia reviews for yourself covered in many health tips from fellow bloggers.
12. Enjoy Yourself!
Stress leads to higher weight increase and vacations as well as fitness retreats are meant for relaxation. Enjoy your new environment and company to avoid bad memories not worth remembering.