Proclaimed by Pantone as the color of the year, greenery is likely to take over the scene in 2017. This vibrant color found its place in interior design as well as in fashion trends. Here's how you can incorporate greenery into your fashion routine.
Greenery represents a "fresh and zesty yellow-green shade that evokes the first days of spring when nature's greens revive, restore and renew." It's reminiscent of nature's awakening and blossoming in spring, but this doesn't mean that you can wear greenery only on warm days. This vivid color looks good on you all year round and you can start rocking it as soon as the new year comes.
An Easy Match
Greenery can be easily combined with other colors. You can pair it with brown and gray shades, as well as with some purple tones. For example, brown shoes and a deep purple handbag go well with a greenery outfit, and blue jeans perfectly complement a greenery top. Make sure that greenery is in the spotlight by combining it with pieces which are toned down when it comes to texture and color, so that you have only one piece that's emphasized.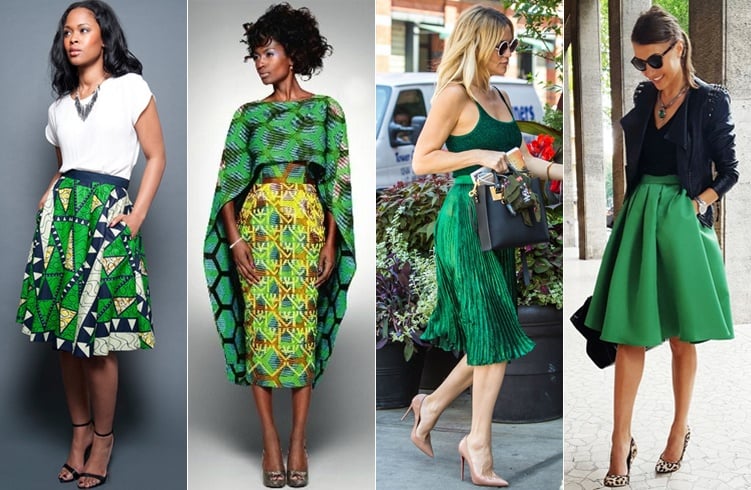 Light Dresses
Collections for spring/summer 2017 feature some interesting pieces in greenery and other green shades. Once the weather becomes warmer, slip into a light green dress to welcome spring. If you can't find a dress in the exact shade that Pantone had in mind – wear other shades of green. Also, if you don't want to cover yourself in green from top to bottom, go for interesting floral prints of greenery. The effect of beauty and freshness will be achieved nonetheless.
A Subtle Touch
If you're not sure how to pull off the "green" look without going over the top, go for subtle details. Accessories in greenery will refresh and rejuvenate your style. A greenery backpack with an interesting design or Ray Ban sunglasses are hues that will definitely pop out. When deciding on handbags, pay attention to the choice of materials, as satin and suede accentuate vibrant colors. Jewelry is another way to incorporate subtle details of greenery into your look. Peridot earrings or bracelets will add a pop of color to your outfits. Peridot also goes well with silver so keep that in mind when creating your next greenery combo. Jewelry in bold and more yellow tones will also do the trick.
Greenery Makeup
If you're not a fan of green clothes, another way to enrich your style with greenery is makeup. Celebrity makeup artist Jessika Bekteshi believes that the most effective way to pull off the look is to use bold greenery shades. "For eyeshadow, a few shimmery shades in the Greenery family applied to the upper and lower lids is perfection. Make sure to blend and soften the edges. Then apply a black eyeliner to your waterline, curl your lashes, and add a few coats of mascara," she says.
Celebrity Style
Celebrities have fully embraced the trend of greenery and they can give us some fashion tips. Solange is frequently sporting emerald and earthy tones, as it is the case with her colleague musician Rihanna. Emma Roberts looked stunning in her one-shoulder green silk dress at Met Gala in 2015. Actress Tilda Swinton attended Los Angeles premiere of her film Doctor Strange in October 2016 wearing a shiny gold-green dress that captured everyone's attention. Judging by these amazing creations, the greenery trend is here to stay.
The use of greenery in fashion, interior design, and lifestyle connects us with nature again and this makes it a trend that many will follow. Take Pantone's advice and wallow in the green.